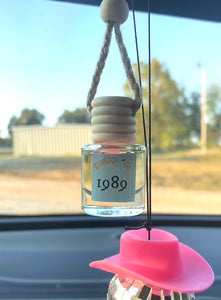 The 1989 Car Freshie
these little car diffusers smell incredible, look pretty, & are refillable/reusable! they work great in cars but can be used in any small spaces like closets, bathrooms, cabinets , etc! 
how to use:
open cap 
take out plastic stopper 
screw the cap back on 
flip over for 2-3 seconds or until you see the oil start to diffuse into the wood cap 
hang & enjoy! 
you can flip it over every couple of days/once a week to refresh the scent! 
refill bottles will be sold separately 
scent: blueberry cobbler, this comes with a little bird charm as well!